Fusion Credit Union Stage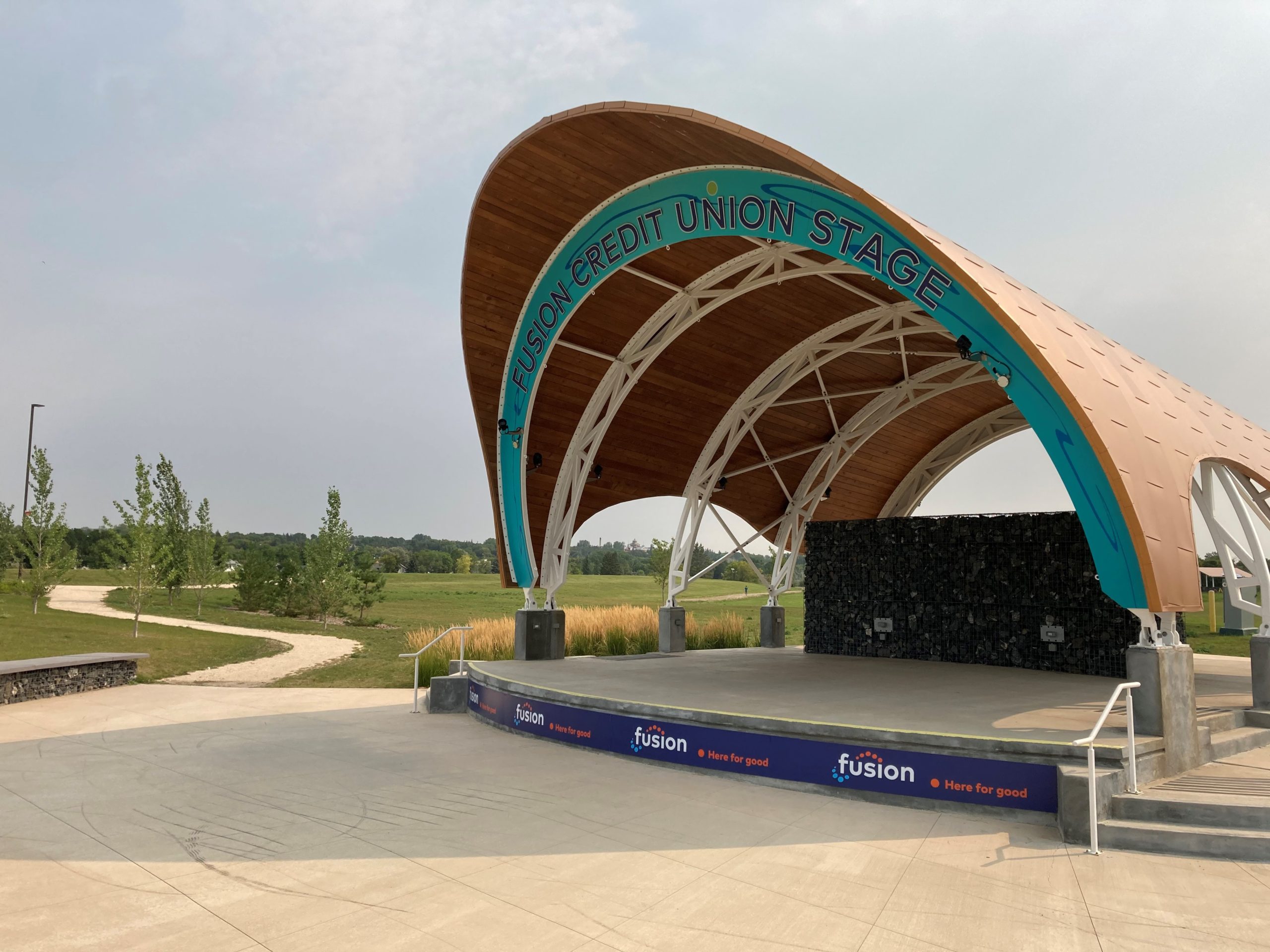 Riverbank Discovery Centre
Development of "The North Hub" will see the Riverbank grounds transformed into the heart of the River Corridor. A number of unique projects will rejuvenate the area, making the grounds a regional entertainment, play and cultural destination focused on celebrating the living history of the Assiniboine River.
Fusion Credit Union Stage
The first feature developed in this area was Fusion Credit Union Stage, formerly known as Festival Park. The signature feature of the park is the amphitheatre with a covered, elevated stage. The amphitheatre berm is formed adjacent to the existing dike and features grass terraces with stone seating structures, and a viewing node at the top of the embankment with a shade structure. The berm faces an elevated, covered stage that is capable of hosting everything from small cultural performances to large summer concerts. The stage is at an elevation above the 300-year flood level and is covered with a permanent, high-tensile canopy. Utilities and structures are in place to easily accommodate performance groups of all sizes, making it an affordable space for groups to rent throughout the summer. The amphitheatre has a capacity of up to 3,000 people and is a premiere outdoor celebration space in Brandon and southwestern Manitoba. The stage area is landscaped to provide shade, define spaces and to buffer performance areas from the wind.
Book Fusion Stage HERE.
Purchase a seat at FCU Stage
Brandon Riverbank Inc. is proud to present local families and businesses with this exciting opportunity to leave a permanent mark in our community and the beautiful new venue that is Fusion Stage. For a $2,500 contribution, donors will be recognized via our donor wall as purchasing an amphitheatre seat and will receive a full tax receipt for their contribution. To purchase a seat at Fusion Stage, please contact James at (204) 717-8801.
Through May of 2018 we ran a special promotion as part of this campaign, where each donor who purchased a seat in the month of May was entered into a draw for the chance to win Dinner for 8 in the Private Dining Room at the 2019 Grey Owl Restaurant, courtesy of Assiniboine Community College. We are pleased to announce that the special promotion helped to raise $56,000 toward the campaign, with many businesses and individuals purchasing amphitheatre seats. Patricia & Cliff Bowslaugh were later announced as the winners of the 2019 Grey Owl prize package. Thank you to everyone for their support of the Festival Park project.
Sponsorship & Naming Rights Opportunities
| Sponsorship Opportunity | Sponsorship Amount |
| --- | --- |
| Stage &/or Amphitheatre | Please contact James at (204) 717-8801 or james@riverbank.mb.ca. |
| Amphitheatre Limestone Seats | $2,500 per seat |
| Tree | $500 per tree |
| Shrub Grouping | $250 per grouping |
Fusion Stage features a number of other amenities that are enjoyed in every season by families relaxing and learning in this beautiful park setting. A large lawn will be available for games, kite-flying and can be used as overflow parking for 200-plus cars during large events. Two large multi-family picnic shelters have been constructed on the edge of the lawn area, featuring picnic tables, a fireplace and food preparation areas. These picnic shelters are the inaugural structures in a consistent design theme that will be found throughout the Assiniboine River Corridor. Native prairie grasses will be incorporated into the landscape, creating a natural pallet that changes in every season, and over time creates a beautiful, low-maintenance environment.
Sponsorship & Naming Rights Opportunities
| Sponsorship Opportunity | Sponsorship Amount |
| --- | --- |
| Tall Grass Prairie Naturalization (12,000 m2 total) | $50,000 |
An internal trail network will be developed, connecting the amphitheatre and stage back to the Discovery Centre and to the rest of the pathway system. Lighting and seating areas will be incorporated into the trail system where appropriate, providing an expanded space for families to relax and enjoy. An extensive interpretive signage program will begin in Festival Park, enabling visitors to learn and experience the area at their own pace, and in every season.
Timelines
Many community organizations and businesses have already begun contributing to this important initiative, and significant groundwork was completed in 2016 through in-kind contributions. Construction began in the fall of 2017 and is now complete. Contact Brandon Riverbank Inc. to pledge your gift to this exciting community project today.