Connect with Nature at the Riverbank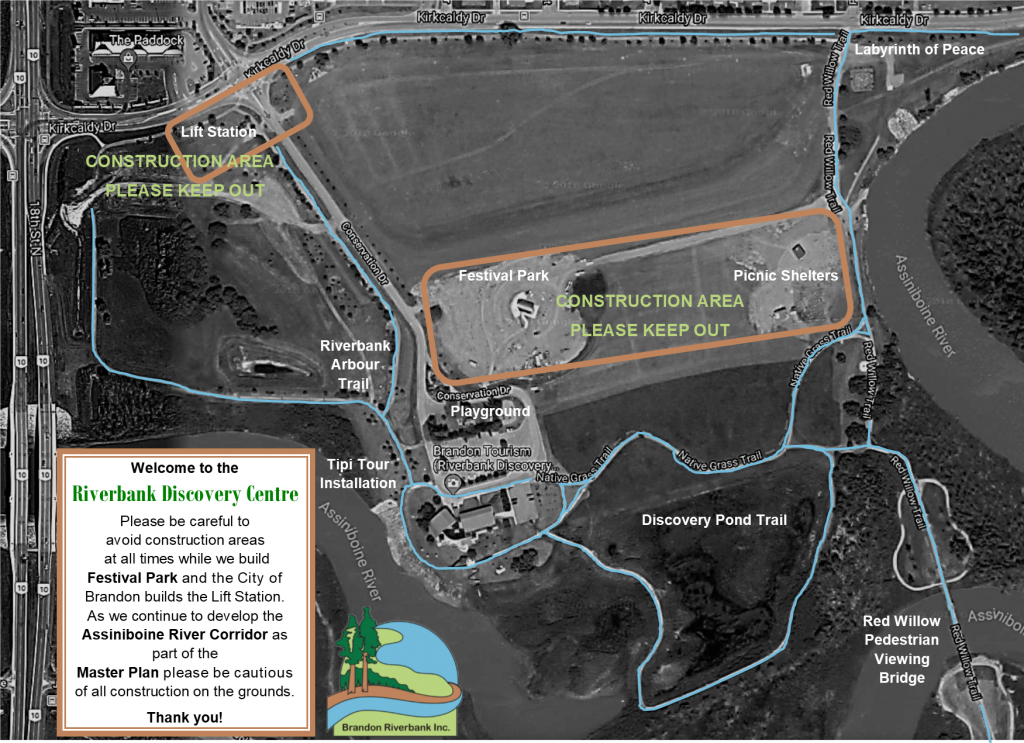 Trails
The Riverbank Discovery Centre serves as the starting point for an entire trail system; with washrooms, water fountain and a snack bar inside, while outside at the trailhead is a fitness station, featuring 10 different pieces of equipment that promote a total body workout.
The Riverbank Discovery Centre's dynamic landscape is ever evolving while we begin to embark on projects of the Assiniboine River Corridor Master Plan. Please review the Trail Map highlighting the current trail system, points of interest, and areas of construction to be avoided.
Wildlife & Nature
Walking on one of the trails, or being on the river itself is likely to provide you with an opportunity to view many forms of wildlife.  A variety of animals including deer, beaver, fox and many species of birds call the Riverbank home in every season.  We ask that you treat their home with respect, leaving their homes and their young as you found them.  We also ask that you not feed the birds or any wildlife as this can be dangerous to yourself and them. For a Self Guided Trail Brochure outlining Wildlife & Nature you might encounter on our trails, please click here.
Interpretive Pond
The Riverbank Discovery Centre ponds were built in 1997 by Ducks Unlimited and were up to normal operating levels in 1999.  The two ponds provide a haven within the city for both animals and nature lovers to enjoy.  The ponds at the Riverbank Discovery Centre are one form of a habitat called a wetland.  Unfortunately as a result of the flood of 2011, only one interpretive pond remains.
The pond is approximately 2 metres deep so the sun's rays can penetrate the water and additional plants are able to grow.  There is also an island in the former west pond, which is used as a secure place for the Canada Geese to nest without having to worry about land predators.
There is a diverse array of plant life around the pond.  Along the riverbank you will find Manitoba Maple, Ash, Poplar and Elm trees.  Closer to the edges of the pond are Cattails, Bulrushes, Willow and Dogwood shrubs and the ever invasive Leafy Spurge, which is you get too close to this greenish yellow flowering plant as it can cause irritation and blistering to the skin.
The pond is home to many different species of ducks, birds and geese with the most common sighting being the Canada Goose.  Also watch for Red-winged Black Birds, Western Grebes, American Coots, Mallards, Blue-winged and Green-winged Teals and Wood Ducks.  If you are having difficulty identifying what you see come and visit the Discovery Centre for more information and identification pamphlets.
You may also see beaver, muskrat, turtles, snakes and ground squirrels that all make regular appearances near or in the pond.

Red Willow Pedestrian Bridge
The Red Willow Pedestrian Bridge was completed in 1997, with 1.1 million dollars being contributed between the City of Brandon and Provincial and Federal governments.  The Pedestrian Bridge is a beautiful structure, providing a vital passage over the River.  It created a catalyst to develop trails on both sides of the river and was instrumental in creating  public excitement about the project, which in turn saw visitors to the area increase dramatically.